Wine stocks have been running low recently. After the dry pasta and paper products flew off the supermarket shelves, it was the turn of the wine aisles to empty and it wasn't long before many people realised they didn't really like what they found there. Rather than give up wine (although, apparently, some people have done precisely that), it soon became clear that wine merchants are in the category of permitted business so many of us saw huge spikes of trade, especially in the run up to Easter weekend. As I say, wine stocks have been running low.
It is good news, then, that we have been able to start to replenish our supplies but even better news that our first pallets are coming in today from Italy. I hope this signals that, as we are being told, we are over the worst of the crisis and things will soon start to normalise (not just yet though).
I CAMPI is an estate we started to work with a couple of years ago but, for some reason, I never fanfared the arrival of the wines at the time or, indeed, when a second shipment came in from the last year. That was selfish of me and I can only apologise for my failure to highlight these fantastic wines made at the estate of one of Veneto's leading oenologists, Flavio Pra who advises many top estates in the Valpolicella/Soave denominations around Verona but it is his own production that interests me as it shows the quality of many of the outstanding estates he directs but at much more attractive pricing.
White wines
There are two white wines arriving today, both of which have been in stocks already but we have shipped more because they are so very good. A well-priced (£14.40) 2018 Lugana 'Campo Argilla', from the shores of Lake Garda was the perfect match for roast chicken just last weekend. It has some quite exotic characters and has become one of our go to whites. Pra makes two Soave wines but we decided just to import the more grown up of the pair, the 2017 Soave Classico 'Campo Vulcano' (£16.50) which has more citrus character. It vies with the red Ripasso for Gambero Rosso's coveted Tre Bicchieri and never seems to be awarded fewer than two "glasses".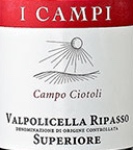 Red wines
A trio of fabulous reds starts with an expressive
2017 Valpolicella Superiore
(£14.40) which, despite relatively low alcohol for a red wine, has great intensity and lively tannins. A great wine to have with a barbecued steak. A step up is the
Tre Bicchieri
winning
2015 Valpolicella Ripasso Superiore 'Campo Ciotoli'
with its hints of Amarone. It is a little pricier (£18.60) but it's a steal compared with any other Ripasso I have tasted. Also arriving with today's shipment
is
the (also
Tre Bicchieri
winning) 2016 Ripasso.
Finally, the majestic
2015 Amarone della Valpolicella 'Campo Lunghi'
, packed full of fruit dried traditionally on straw mats giving it an alluring bitter character. The intensity of the 2015 is such that I would recommend cellaring it for a few years and enjoying the 2013 Amarone in the meantime - we had this quite recently with the most simple meal of all: a wedge of Parmesan cheese. Delicious.
Special Offer for April 2020:
12 bottles of Lugana for the price of 11 - 1 bottle free!