Around 15 years ago, when Ciaran Rooney was winemaker at Domaine des Anges in Mormoiron, we met up for dinner and he brought a bottle of Sancerre. Never a fan of Sauvignon Blanc, wary of winemakers' tendencies to over-extract and make a searing, cordial-like bevy, I opened it cautiously. From the outset I smiled: Pascal et Nicolas Reverdy knew how to please all-comers. We made a beeline to the estate on the way back north and have visited many times since but it is only now that they have agreed to extend their list of UK importers to include us.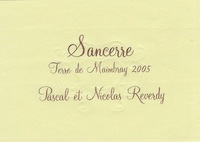 There are five wines in the range, the regular set called 'Terre de Maimbray' after the area near to the domaine where most of the vineyards are to be found. The wines in 2018 and 2019 are probably the very best we have encountered from this producer: the Blanc has quite a restrained nose (not too Sauvignon!), real depth of flavour and plenty of stuffing. It's bright with lively but not overbearing acidity and holds itself up very well.

The rosé is, for me, a revelation. Like many, I have generally thought of
rosé wines as a bit of a joke, a by-product of the real thing. Not this one. It is made exclusively from Pinot Noir (so that's why it's so good) and offers sweet, juicy fruit all the way through with perky acidity and a sweet finish. Lovely light Pinot character. Just don't drink it too chilled or you'll lose the magic.
The red 'Terre de Maimbray' is almost a cross between top drawer Beaujolais and Burgundy with its lighter body but delicious concentration. This year the fruit will cut through the flavours of slightly charred meats from the barbecue. Next year it will step up with more serious notes.
The two prestige wines can be cellared for a decade or more (that said, none of the wines is going anywhere for quite a while), both having been aged in
barrique
for structure and support. The white, "Les Anges Lots" has a softer nose than the "Terre de Maimbray", the oak subduing any of the excesses of Sauvignon that may be lurking there, and a more restrained palate for now. This needs some air. When you get through, you find a bigger, more complex wine, steely and mineral with saline notes. Dry and excessively drinkable (I refer you again to my earlier trepidatious comments about the variety).
"A Nicolas" is Pascal's hommage to his brother who died in 2007. Again, age will do it no harm - we are currently beginning to enjoy the 2015 outing for this wine but, bearing in mind the excesses of the 2018 vintage, this vintage is more forward and can be enjoyed from now. A lovely Pinot. Definitely not Burgundy but great Pinot nonetheless.
I have almost managed to get through a blog post without referencing food. Not so fast: white Sancerre reputedly is a good match for
Crottin de Chavignol,
a local soft goat's cheese or anything similar. Not for me and certainly not with these deliciously delicate wines. The cheese becomes a little cloying and overwhelms the wine. Why waste either? Enjoy these whites as an
aperitif
or, if you must have food, a light salad or anything that won't try to compete. Whichever way, these are wines to savour and enjoy.